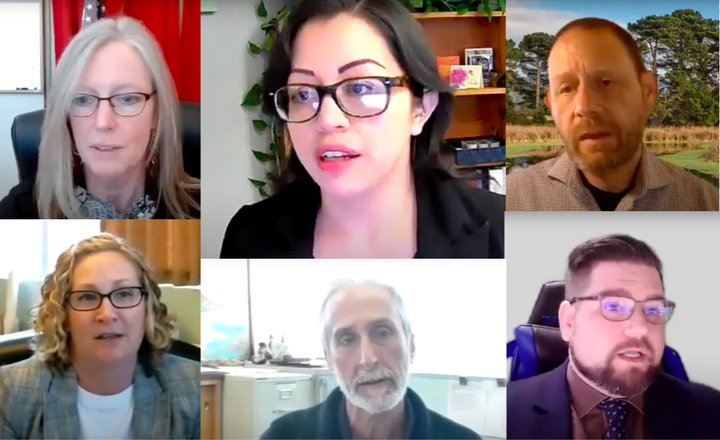 PREVIOUSLY:
###
Everyone is on edge. 
In recent conversations about county finances with officials, staff members and outside agencies, everyone chooses their words carefully, speaking with diplomacy to avoid inflaming an already volatile situation. 
The tense atmosphere was apparent during the most recent meeting of the Humboldt County Audit Committee, an oversight group that was formed specifically to address rampant dysfunction in the county's fiscal management, which has devolved into a slow-motion catastrophe of overdue reports, disgruntled county contractors, internal investigations and cross-departmental power struggles.
As you'll read below, one department head recently told county supervisors she's never been more worried about the state of the county's finances. Staffers tell the Outpost that dysfunction has so thoroughly bogged down the system that whole departments fear financial collapse.
From the outside, the drama often seems to center around Karen Paz Dominguez, the county's firebrand auditor-controller who was elected in 2018 after publicly declaring that the office was so understaffed that it was incapable of ferreting out misstatements or potential fraud.
Since her election, Paz Dominguez has positioned herself as a reformer out to systematically modernize the county's sloppy fiscal reporting by streamlining operations and closing loopholes to achieve compliance with state-mandated accounting standards. In conflicts with the County Administrative Office, county supervisors and other departments she has argued that her efforts have been frustrated by continued short-staffing, interference and a lack of cooperation.
Critics, meanwhile, accuse Paz Dominguez of mismanaging her resources, spending dollars to chase pennies and losing sight of the big picture. 
In one characteristic conflict about a year and a half ago, Treasurer-Tax Collector John Bartholomew wrote to Paz Dominguez saying the county was accumulating interest charges of nearly $270 per day while waiting for her department to establish a new fund.
'We can't be expected to resolve years of neglect at the drop of a hat when everything around us requires immediate or urgent attention.'
Paz Dominguez replied that rules can't be broken, and some things take time. "We can't be expected to resolve years of neglect at the drop of a hat when everything around us requires immediate or urgent attention."
The conflict escalated with each accusing the other of being unprofessional.
"Frankly," Paz Dominguez wrote at one point, "the years of mismanagement happened right in front of you and I'm the one tasked with cleaning it up so perhaps exhibiting some patience and grace would be more productive."
Bartholomew countered, "[Y]ou throw wrenches into county operational processes so they no longer function, then don't bother to provide another tool to allow that process to continue." He urged her to use a scalpel rather than "taking a machete to anything you suddenly believe should be changed."
The interpersonal conflicts have only escalated since then, with much of the focus on the apparent power struggle between Paz Dominguez and County Administrative Officer Amy Nilsen. (Several county employees who asked not to be quoted on the matter said Nilsen's recent resignation after more than 20 years with the county can largely be attributed to this conflict.) But other department heads have clashed with Paz Dominguez as well. 
Late last year, after the county had launched an internal investigation into delayed payments, transfers and reconciliations of accounts, Paz Dominguez sought to retain an outside attorney who has a history of suing the county. Her refusal to be interviewed under any other circumstances effectively stymied the investigation, which was eventually abandoned.
Last month the Board of Supervisors voted 4-1 in closed session, with Fifth District Supervisor Steve Madrone dissenting, to authorize a new fact-finding investigation into five instances of "workplace misconduct and delayed payments by the Auditor-Controller." Paz Dominguez told the Times-Standard she had no information about the matters.
So what's really going on? Is the auditor-controller getting sabotaged by entrenched powers resistant to change? Is she in over her head and putting the county at risk? Or are the problems more diffuse and systemic?
In this story we examine some of the most recent fiascoes, including a pair of federal liens levied against the county and the struggles of a local homelessness services provider that owed more than half a million dollars. We also investigate internal county emails and documents that reveal growing discord and increasing alarm over the county's finances.
Bills unpaid
On Monday morning, county supervisors received a desperate letter from the board of Arcata House Partnership, a nonprofit that works to address the needs of the local homeless population. 
The letter says the county owes the agency $507,394, nearly a third of its annual operating budget, and that delayed payments — some more than six months past due — are seriously jeopardizing its ability to serve the county.
'It should come as no surprise that the County has defaulted on their contracts with many vendors and contractors … .'
"[B]oth of our lines of credit are maxed out, we cannot pay our utility bills AND our payroll this week [and] our accounts payable is in arrears," the letter states. In the accompanying email, Arcata House Partnership Executive Director Darlene Spoor told the supervisors, "It should be no surprise that the County has defaulted on their contracts with many vendors and contractors having outstanding unpaid invoices months overdue." 
Arcata House Partnership is a key member of Humboldt County's Continuum of Care, the collaborative planning body that coordinates local homeless services and brings in millions of dollars in state and federal funding. Those services are typically contracted through the county Department of Health and Human Services (DHHS), which in turn submits invoices to the Auditor-Controller's Office. At this point, Arcata House Partnership says it simply can't afford to accept any more contracts through the county.
"This means the Continuum of Care is in danger of needing to return most of the $5.4 million that was allocated to Humboldt County for homeless services," the letter explains. "If we do not receive our contracted reimbursement soon, this Board must consider the probability that we will default on our contracts, suspend services for which we are currently contracted, and lay off staff in an effort to maintain some part of the viability of what remains of Arcata House Partnership."
When the Outpost spoke with Spoor last week she said DHHS Director Connie Beck and her staff have done their best to help resolve these issues, to no avail. She's not entirely sure where the problem lies but said the invoices her organization submits keep getting rejected for minor discrepancies.
"We've submitted our invoices and they got rejected for literally two-cent adjustments because somebody rounded up or down," Spoor said. Such minor variations are routine and not a reasonable justification for refusing payment, she said, and yet it has happened again and again. "A two-, five- [or] 20-cent adjustment and $90,000 invoices don't get paid because of it," she said. "We submitted nine invoices yesterday for the sixth or seventh time."
Asked about this via email, Paz Dominguez said the holdup isn't in her department. Her office's records show that an Arcata…


Read More:As County's Fiscal Fiascoes Mount, Feds Impose Tax Liens, Contractors Plead for Their