When choosing the right task management software for yourself or your team, it's easy to get lost in the abundance of options. It really seems like there's a task management app for everyone – from meticulous planners to design geeks and even list-making haters. 
With this comprehensive list of 26 task management tools, we'll help you find just the app for you. To make your choice easier, we've divided task management software into apps more intended for business use (teams) and those more suited for personal use.
Want to get the most out of your time?
Try DeskTime for free!
Try free for 14 days · No credit card required.
Why should you use task management software?
Before we dive in, let's talk about why you need task management software in the first place. You may be doing just fine using paper checklists or keeping all to-dos in your head. 
First of all, by handing over your task tracking to a task management app, you are freeing up your time and mental resources for other important stuff. And giving your brain a break from constantly processing all to-do's, deadlines, and plans.
If you're not convinced, here are several other reasons for using task management software:
Increased productivity – by providing clear to-do lists and visualizing progress, task management apps help users stay focused on their priorities and tasks.
Efficient collaboration – task management software facilitates team collaboration and communication. Team members can assign tasks, comment, share files, and track progress together, ensuring everyone's on the same page.
Saving time – task management tools automate many processes, reducing manual work and saving time that can be used more productively.
Better task tracking – users can see what's been completed, what's pending, and what's coming up, providing better visibility into their workload and the progress of tasks.
Reporting and analytics – task management software enables users to gain insights into their productivity, team performance, potential bottlenecks, etc.
Ready to give a new structure to your daily life and conquer your work assignments? We give you 26 best task management apps that stand ready to assist you in taking control of your tasks, projects, and chores.
Task management software for teams
1. Any.do
Price: Free basic account, Premium from $3/month 
Works on: Web, Mobile (iOS, Android), Desktop (Mac, Windows), Browser extensions
When it comes to handy UI and sleek design, Any.do may be among the best task management software out there. It's simple to drag and drop tasks to change their order or priority level, add tasks through voice command, and swipe tasks to mark them as complete. Use categories or themes to differentiate among projects or segments of life. 
Any.do is a champion of reminders – you can set some to go off at a certain time and even in a location of your choice, like home or work. This task management app also notices your missed phone calls and is able to remind you about them.
Any.do is also irreplaceable as a calendar app that smoothly integrates with your Google Calendar, Outlook, iCloud, or any other calendar. The app can also help you plan your day by browsing your tasks and suggesting when to complete them. 
In the team version of Any.do, you get a collaborative workspace and +100 workflow templates. You can break big tasks into smaller action items, document everything, add files, tags, checklists, due dates, and use real-time chat.
Special features:
Delete tasks by shaking your phone (on Android);
A morning notification about your plans for the day;
A preset grocery list that won't let you forget different product categories.
2. Taskade AI
Price:
Personal & Family – free or starting from $4
Team & Business – starting from $16 per user/month
Works on: Web, Mobile (iOS, Android), Desktop (Mac, Windows, Linux), Browser extensions
Taskade AI is among the best task and time management software out there that offers mighty collaboration features like a team chat, video conferencing, reminders and deadlines, recurring tasks, and team permissions. Taskade's automatic syncing keeps data up-to-date on every device – at home, at work, or on the go.
Taskade lets you create tasks with the help of AI, such as subtasks for a project. It's also able to adjust the tone of voice for the notes you write. You can ask AI to make your notes more descriptive or even import files and ask AI to summarize them inside Taskade's notes.
Special features:
Create visual mind maps to brainstorm ideas and develop project plans;
Integrated video calls allow remote teams to conduct meetings directly within the app.
3. DeskTime
Price: Free basic account; Pro plan, and other pricing plans starting from $6 per user/month
Works on: Web, Desktop (Mac, Windows, Linux), Mobile (iOS, Android), Browser extensions
DeskTime is a time and task tracking software that combines project management and productivity analysis. DeskTime is a great choice for freelancers and teams of all sizes who want to monitor and track projects in one place. 
One of the main benefits of DeskTime is that it's 100% automatic, meaning that it starts tracking your time as you begin work and identifies productive and unproductive URLs and apps you've been using. 
DeskTime automatically calculates how effective and productive you've been throughout the day – or while working on a particular assignment. By accessing their time-tracking data, users can draw their own conclusions on how to become more effective.  
In addition to task tracking, DeskTime's scheduling features, like Shift scheduling and Absence calendar let you streamline your team management and organize your team's work hours.
Special features:
An in-depth user dashboard is updated constantly, showing time spent on specific tasks or projects;
A built-in break reminder to support your team's work-life balance and well-being;
Document title tracking, including email subject lines, Slack channel names, etc., can help you track the time spent on each task.
4. Todoist
Price: Free basic account, Premium from $4/month 
Works on: Web, Desktop (Mac, Windows), Mobile (iOS, Android), Browser extensions
Todoist is a popular daily checklist app with many task management features. It works great for both professional or personal tasks – you can choose different colors and labels to separate work tasks from house and family-related to-dos. 
Todoist allows teams to sort projects according to their priority, track due dates, add multimedia notes and more. Todoist's handy dashboard lets users see the day's tasks and the tasks for the next week or month, motivating them to reach their goals. It's simple to move the task to another day or mark it done. 
Special features: 
When you type details like "tomorrow at 3 pm", Todoist will recognize and add the time to the task for you;
Preset templates for organizing finances, social media calendars, meeting agendas, etc.
5. Trello
Price: Free basic account, Premium starting from $5 per user/month
Works on: Web, Desktop (Mac, Windows), Mobile (iOS, Android), Browser extensions
Trello offers a task management system designed for managing team projects. It lets you create cards for each task or project – like a digital bulletin board where you organize projects in a fun and gamified way. Trello is customizable and flexible for every type of work, from planning projects and managing meetings to onboarding new employees. 
Trello's handy and visual UI makes project and time management simpler and more enjoyable.  You can browse through tasks with your teammates and organize assignments in boards and lists depending on their status ("To do", "In progress", "Done," etc.). The app also works offline, saving information to your boards and cards anytime.
Special features: 
Break down big tasks into checklists, check things off the list, and enjoy watching the status bar go to 100% complete.
6. Smartsheet
Price: Free basic account, Pro from $6 per user/ month
Works on: Web, Desktop (Mac, Windows, Linux), Mobile (iOS, Android), Browser extensions
Smartsheet is cloud-based task management software for organizations of all sizes. It lets your team manage projects, automate processes, and review information — all on one real-time, centralized platform, accessible from anywhere and on any device. Smartsheet integrates with most enterprise systems and apps.
Smartsheet lets you share tasks and collaborate on projects with people inside and outside your organization. You can start from scratch or use Smartsheet's pre-built and optimized templates. The app lets you capture tasks and milestones in a simple grid view or switch to Card or Calendar view or Gantt charts for viewing the same data in flexible views. 
Special features
Create interactive dashboards or even customized no-code apps to fit your team's specific needs.
7. Notion
Price: Free basic account, Premium starting from $8 per user/month
Works on: Web, Mobile (iOS, Android), Desktop (Mac, Windows), Browser extensions
Notion unifies several list-making and time-management features in one task management tool. You can create comprehensive project documentation or a whole knowledge base about a topic or assignment, adding notes, files, and linking pages within Notion. Notion will also integrate across all the platforms you use.
Notion uses a block-based system, similar to building with Lego bricks, where you can add text, images, to-do lists, calendars, and more. You can create your own task templates or choose from a variety of pre-made templates for different use cases.
Special features: 
Web clipper extension allows you to save web pages, articles, and other content directly into your workspace;
Notion keeps a detailed version history of your content, allowing you to track changes and revert to previous versions.
8. Wrike
Price: Free basic account, Premium from $9.80 per user/ month
Works on: Web, Desktop (Mac, Windows), Mobile (iOS, Android), Browser extensions
Wrike is a popular task and project management system that works well for small teams as well as enterprise-level users. Organizations using Wrike report a significant reduction in email use as teams can communicate about all task-related issues through mentions right in Wrike. At the same time, thanks to Wrike's 400+ integrations, you can continue using all your favorite project management tools. 
Wrike's built-in time tracking features help teams monitor how time is spent on tasks and projects. The app also provides reporting and analytics tools for tracking project progress and identifying bottlenecks.
Special features:
Resource management features that help with resource allocation and workload balancing.
9. Asana
Price: Free basic account, Premium starting from $10.99 per user/month
Works on: Web, Desktop (Mac, Windows), Mobile (iOS, Android), Browser extensions
Asana is a customizable task management tool known for its extensive features and capabilities. The app can be used for both personal and teamwork planning. 
Asana lets you arrange work into Teams, Tasks, and Projects. Asana's Timeline view provides a Gantt chart-like visualization of your project's tasks, allowing you to see task timelines, dependencies, and deadlines at a glance. The dependencies feature is crucial for managing projects with sequential tasks or interdependencies.
Asana offers a wide choice of project templates that you can customize to suit your specific workflow. These templates can be easily adapted for various project types, such as marketing campaigns, product launches, etc.
Asana offers advanced reporting capabilities that enable you to track project progress, team performance, and other important metrics. In addition, you can integrate Asana with time-management software to add time tracking to your tasks.
Special features: 
Ping teammates and reference other tasks or projects with @mentioning;
Prevent duplicate work by adding the same task to several projects.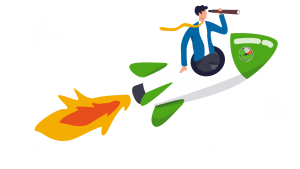 Looking for ways to up your business?
Our all-in-one team management solution is smart, cost-effective, and gives fast results!
10. Teamwork
Price: Free basic plan, Premium from $5.99 per user/month
Works on: Web, Mobile (iOS, Android), Desktop (Mac, Windows), Browser extensions
Teamwork is a powerful task management system with a vast set of features and an intuitive interface. Invoicing and billing are included, so it's very suited to teams that handle client work.
Teamwork's strengths are simple and intuitive design and great customization options, which make task management simpler and more pleasant. Within minutes of creating an account, you can set up a project, invite collaborators, enter a list of milestones, and begin adding tasks. A long list of integrations makes it easy for teams to run everything in one place.
Teamwork offers extensive tools for helping project managers or business owners. You can monitor people's time and workload, know when deadlines are approaching, send invoices to clients for billable work, and more. 
Special features: 
Group people into teams for easier communication, assign tasks to the right people and redistribute work when someone is overloaded.
11. Flow
Price: Basic $6 per user/month, Plus $8 per user/month, Pro $10 per user/month
Works on: Web, Mobile (iOS, Android), Desktop (Mac, Windows)
Flow is modern and flexible task and project management software for teams. It helps you organize your tasks, stay on track, and achieve more as a team. 
Flow allows you to connect tasks to deadlines and track your progress. You can receive notifications and email reminders to ensure you don't miss important deadlines.
Flow automatically compiles a news feed with everything you care about in a single stream, including tasks assigned to you, tasks you've delegated, updates on tasks you're following, as well as any mentions in chats throughout the app.
Special features:
Control the privacy of any project or assignment to make it public to your whole team or private and invite only.
12. ClickUp
Price: Free basic plan, Premium from $7 per user/ month
Works on: Web, Mobile (iOS, Android), Desktop (Mac, Windows), Browser extensions
Task management software ClickUp includes over 15 ways to view your work, letting you flex your workspace to fit your needs. Apart from the customary Board and List view, you can view your tasks in a Box view, Whiteboard view, and others. 
ClickUp offers efficient reminders to help you keep track of your deliverables. The app lets you customize where and when you receive these reminders – whether it's your email inbox, desktop, or mobile. 
ClickUp's AI-powered assistant helps to draft plans and notes inside tasks and brainstorm within tasks. You can even draft blog posts inside tasks, share them, comment, and edit them all within ClickUp's platform.
Special features:
Save any list as a template to instantly add it to future projects; 
Convert comments into individual tasks for swift task management.
13. Quire
Price: Free basic account, Premium from $7.65 per user/ month
Works on: Web, Desktop (Mac, Windows), Mobile (iOS, Android), Browser extensions
Quire is a simple but powerful task management app. Its strengths include a unique hierarchical task structure that allows for nesting tasks within tasks, making it easy to break down complex projects into manageable subtasks. In other words, you can map out your thoughts or challenges and tackle them with small steps.
Quire also offers real-time collaboration, enabling teams to work together seamlessly. The intuitive user interface and the ability to visualize project progress through Kanban boards and Gantt charts make it a top choice for project management.
Special features:
Powerful filtering options to help you detect the tasks that need to be completed first.
14. Basecamp
Price: Basic account $15 per user/ month, Pro from $299 per month/unlimited users
Works on: Web, Desktop (Mac, Windows), Mobile (iOS, Android), Browser extensions
Basecamp is user-friendly task management software that helps teams excel in communication and collaboration. Basecamp provides tools for creating to-do lists, scheduling events, and sharing documents, making it an excellent choice for small to medium-sized teams. 
Basecamp has a straightforward, one-page dashboard that compiles all projects, tasks and timelines. Project schedule view displays all to-dos, deadlines, and relevant events. For more powerful time and productivity tracking, you can integrate your Basecamp account with DeskTime.
Special features:
Message Boards serve as a centralized location for team communication – threaded discussions, file sharing and topic organization.
15. Fantastical Calendar
Price: Free basic account, Premium from $5.83 per user/month 
Works on: Mobile (iOS), Desktop (Mac), Smart Watch (Apple Watch)
Fantastical is ​a time management app that works seamlessly across Apple devices. You can add your existing calendars directly to Fantastical and keep all of your tasks and events in sync, including custom calendar sets, notifications, templates, weather settings, and more.
Fantastical boasts a beautiful full calendar window with different views, an ultra-quick access mini window to tasks and much more. The app's intuitive natural language recognition and smart event list make it one of the most helpful time management app you'll ever use.
Special features:
Time zone support and various settings to customize time zone settings according to your preferences;
3-day weather forecast.
16. MeisterTask
Price: Free basic account, Pro from $11 per user/month
Works on: Web, Desktop (Mac, Windows), Mobile (iOS, Android), Apple Watch
MeisterTask is simple and intuitive task management software that requires little to no onboarding. This app's strength is visual task management with a Kanban-style board that allows users to move tasks across stages easily. 
MeisterTask is mostly appreciated for its integration with mind mapping software MindMeister and MeisterNote allowing users to seamlessly transition from brainstorming and mind mapping to the practical task management in MeisterTask. This is especially valuable when you need to turn creative ideas and plans into actionable tasks.
Special features:
Task relationships – keep your team informed about how tasks fit together by linking them as related, duplicate, or blocking.
Task management apps for personal use
17. Bear
Price: 14-day free trial, then starting from $2.50/month 
Works on: Desktop (Mac), Mobile (iOS)
Bear App is a beautiful checklist app combined with an excellent tool for taking notes. This app makes it a pleasure to create checklists, add detail to tasks, and even sketch to-do lists. Bear app offers many beautiful themes, rich text editing with great design, and rich typography options.
In the summer 2023, Bear's team launched the app's new version that comes with many new features and an even more beautiful design. For example, you can now create tables in Bear notes, play GIFs, preview links and PDFs, scan documents, add footnotes, bring your own fonts, and more.
iOS users can benefit from importing content into the Bear app, for example, sharing notes and lists from other apps, capturing webpages, dragging and dropping from other apps, and even adding notes by talking to your Apple Watch. 
Special features:
A progress bar under each note fills up as you check off to-dos, giving you a visual idea of each task's status.
18. Focus To-Do
Price: Free basic plan, Premium starting from $1.33/month 
Works on: Web, Mobile (iOS, Android), Desktop (Mac, Windows), Apple Watch, Browser extensions
Focus To-Do is a time and task management tool combined with a Pomodoro timer. You can write and organize tasks into to-do lists, set reminders for important tasks and plans, and track the time spent at work. Highlight your day's most important to-do's with color-coded priority levels.
The idea is to pick a task you want to work on, start the focus timer for 25 minutes, and when the timer rings, take a 5-minute break. The work and break lengths are customizable letting you choose your own productivity window. You can also skip a break if you've entered the state of productive flow. 
Special features: 
Maintain habits with recurring due dates like "Every Monday";
Historical statistics help you analyze the time spent on completing tasks or generally on work every day, week, or month.
19. Nozbe
Price: Free basic account, Premium from $8 per user/month
Works on: Web, Desktop (Mac, Windows), Mobile (iOS, Android), Apple Watch
Nozbe task management software is known for its simplicity and task-focused approach. It's ideal for personal productivity and small teams. The app integrates with popular platforms, supports file attachments, and offers mobile apps for on-the-go task management.
Nozbe emphasizes the Getting Things Done methodology, which is great for those who need help staying organized and productive. Nozbe offers productivity reports and charts to help you assess your performance and identify areas for improvement.
Special features:
You can turn emails into tasks by forwarding them to your Nozbe inbox.
20. Remember The Milk
Price: Free basic account, Pro version $39.99/year
Works on: Web, Mobile (iOS, Android, Blackberry), Desktop (Mac, Windows, Linux), Other (Fire, Apple Watch), Browser extensions
Remember The Milk is a simple time management and daily checklist tool that helps to create organized and colorful lists. For almost two decades already, users have appreciated its handy tagging, smart list features, and simple and intuitive UI.
Remember The Milk allows you to create Smart Lists with customizable criteria, such as due dates, tags, and priorities. This feature helps you organize and view tasks based on specific conditions and identify all your due dates for the week.
Remember The Milk lets you connect to Gmail, Outlook, Siri, and Google Calendar and receive reminders via email, text, IM, or even – X (Twitter). You can forward emails to Remember The Milk, turning them into actionable tasks and adding them to your to-do list.
Special features:
Location-based reminders can notify you of tasks when you arrive at or leave a specific location, like your home or workplace;
Smart sentence recognition lets you write the details and due dates in one line using natural language.
21. Evernote
Price: Free basic account, Evernote Premium $8.33/month
Works on: Web, Mobile (iOS, Android), Desktop (Mac, Windows), Browser extensions
Just like the name suggests, Evernote is an app that works as a pocket notebook, personal organizer, to-do list, etc. Evernote conveniently collects your business ideas, photos, voice recordings, and to-do lists, in one place, helping you save lots of time. 
Evernote offers flexible organization options, allowing you to create notebooks, stacks, and tags to categorize and manage your notes effectively. This makes it easy to find and access specific notes when you need them – and on any device you may be using.
Special features:
You can share notes and notebooks even with those who don't use the app;
Evernote's OCR capability allows you to search for text within images, PDFs, and even handwritten notes.
22. TickTick
Price: Free, Premium from $3/month
Works on: Web, Mobile (iOS, Android), Desktop (Mac, Windows)
TickTick is a handy task management app that allows you to add tasks, subtasks, deadlines, reminders, and recurring tasks for the day, week, or month. You can also turn an email into a to-do list, as well as assign tasks, and share lists with others. TickTick has several features suited to the Getting Things Done (GTD) working method and the Pomodoro Technique.
This time management app gives you five options for calendar views to see which view motivates you the most. TickTick is very convenient and versatile on mobile, bringing together all your to-dos, schedules, and reminders in one intuitive space. TickTick also lets you add tasks using voice commands.
Special features:
Smart Date Parsing feature auto-sets due dates and alarms from your input;
Enable Habit feature and start building some good habits – meditation, exercise, reading, etc.
23. Habitica
Price: Free, Subscriptions from $4/month, In-app purchases
Works on: Mobile (iOS, Android)
Habitica is a task management app that uses retro Role Playing Game (RPG) elements to gamify your goals and tasks. To begin, you create an avatar for yourself. Then you either select from the preset habits and goals or add your own. When you complete tasks, your character gains health or experience and some gems along the way. If you fail or abandon your tasks, you lose power and health. 
This time and task management software is great for those who find planning and organizing their day-to-day boring and tedious. With rewards and punishments to motivate you and a network of fellow players to inspire you, this task management software can help you achieve your goals in a fun way.
Special features:
You can team up with friends for extra motivation and accountability.
24. Things
Price: $9.99 for iOS, $49.99 for Mac
Works on: Desktop (Mac), Mobile (iOS, iPad), Apple Watch
Things app is suited for individuals and small teams seeking a Mac and iOS-centric task management tool. Its strengths include a beautiful and intuitive interface, strong integration with Apple's ecosystem, and the ability to organize tasks and projects with ease. 
Users can easily drag and drop tasks to categorize them, set deadlines, or assign them to specific projects or categories, providing flexibility in how you organize and search for tasks based on keywords or themes.
The quick entry feature allows you to swiftly add tasks without navigating through complex menus. This is useful for capturing thoughts and to-dos on the fly.
Special features:
"Today" widget that provides a quick overview of your tasks, allowing you to stay on top of your to-dos without opening the app.
25. Microsoft To Do
Price: Free
Works on: Web, Mobile (iOS, Android), Desktop (Mac, Windows), Browser extensions
Microsoft To Do is a reasonable choice for task management software if you're a Microsoft Suite user. It's effortless to import and sync tasks from other Microsoft apps and even turn Outlook emails into tasks. However, Microsoft To Do's web and desktop version works on Mac and Mobile just as well and is completely free to use, making it an affordable task management solution for businesses and individuals.
Microsoft To Do is a simple to-do list app that lets you plan for anything – from drafting your grocery lists to organizing your workflow. You can manage priorities by using numbers or tags like #urgent, #medium, #low, and then sort the tasks in the most convenient way. This to-do list app is pretty straightforward and mainly aimed at personal use rather than effective team collaboration.
Special features:
You can share your lists with family, friends, or colleagues, which makes it straightforward to collaborate and get things done even quicker.
26. Clear Todos
Price: $4.99
Availability: Mobile (iOS)
Clear Todos is possibly the simplest checklist app out there. While every other task management tool piles on features, fields to fill out, and extra decisions to make, Clear Todos can make you more productive without creating more noise and distractions in your life. 
Clear embodies its name and gives you a straightforward way to cross items off your to-do list – just like on a piece of paper. Seeing the completed items is particularly useful for grocery lists, gift ideas, and recurring to-do's.
Special features:
The elegance and simplicity of the design.
Task management apps to help you conquer your goals
Task management software is invaluable for individuals and teams looking for ways to boost productivity, streamline workflows, and achieve goals. Whether you're seeking the simplicity of minimalist design, the power of advanced features, or the flexibility of collaborative platforms, we hope we've helped you choose the best task management software to suit your needs.
Did you find this article useful? Give it a clap!
Psst! You can clap more than once if you really loved it 🙂