Growth is one of the basic needs of human beings. When we feel safe and confident, we start to think about the next step we could take and the next peak we could conquer. Thus, the urge to take your career to the next level comes naturally, and it's no wonder you're thinking of the best ways to have a career conversation with your manager.
Plus, it's not only in your interest to climb up the career ladder within your current workplace. Most companies don't want to let go of their workers, as hiring and training new employees is often time-consuming and expensive. Thus, talking about career growth with your employer is the perfect opportunity to mold the situation to serve your ambitions best.
Keep reading this post and learn what career development conversation is, why it matters, and how to discuss your professional growth with your boss effectively. 
Want to get the most out of your time?
Try DeskTime for free!
Try free for 14 days · No credit card required.
What is a career development discussion?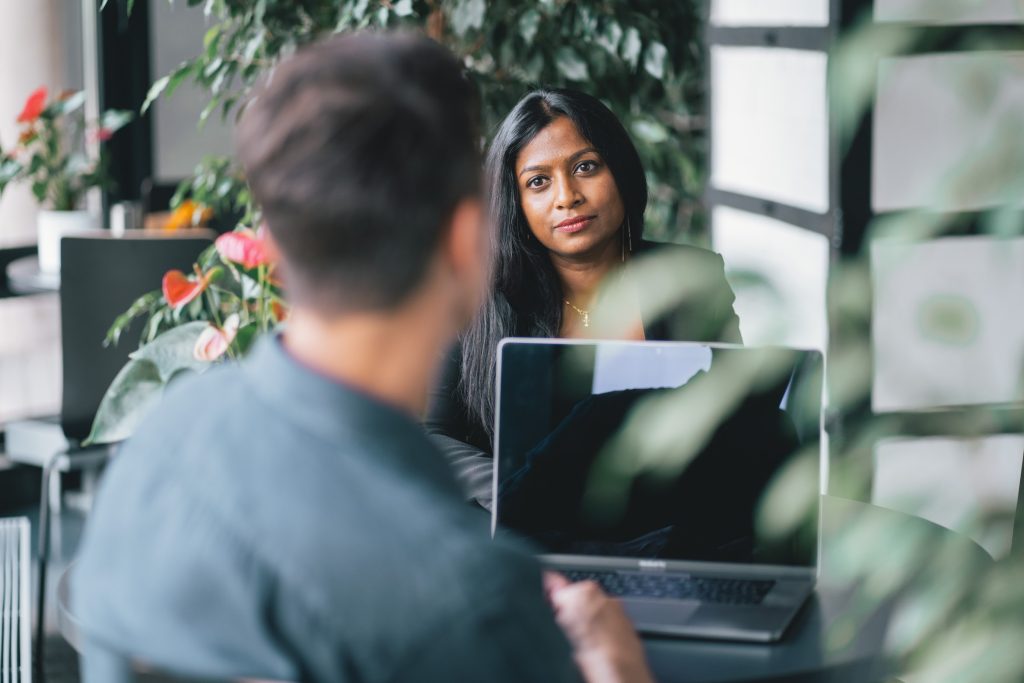 A career development discussion is a conversation between an individual and a supervisor, mentor, or manager exploring potential career growth options in their current workplace. 
Ideally, such conversations happen in a formal setting. These discussions allow you and your manager to assess your skills, interests, and overall career aspirations. Such an assessment will help you align these skills with your career goals. 
It also helps you identify any skill developments required for the aspired growth. By identifying the gaps between your current skills and those needed for your growth, you can easily plan how to establish those requirements. This can be through training, certificate courses, on-job experiences, and more. 
Why do career development discussions matter to employees?
Here are the three main benefits.
1. It adds clarity to your career path
One of the significant benefits of career development discussions is that they clarify your career path. Sometimes even after working with an organization for a long term, you may not be fully aware of available career growth directions. Having a chat with your manager helps you identify these opportunities. This clarifies how you can grow within the organization without looking for another job outside it.
2. It shows how you can achieve your goals
Another benefit of career development conversations is that they give you a clear direction on achieving your goals. These discussions help you identify skill gaps required for the desired growth so you get a clear direction.
3. Goal alignment with that of the organization's
Once you have a clear idea about how to proceed toward your goals, you can align them with the organization's goals. This will make you more committed to contributing to the company's success and might help your professional progress. 
Why they're important to organizations as well?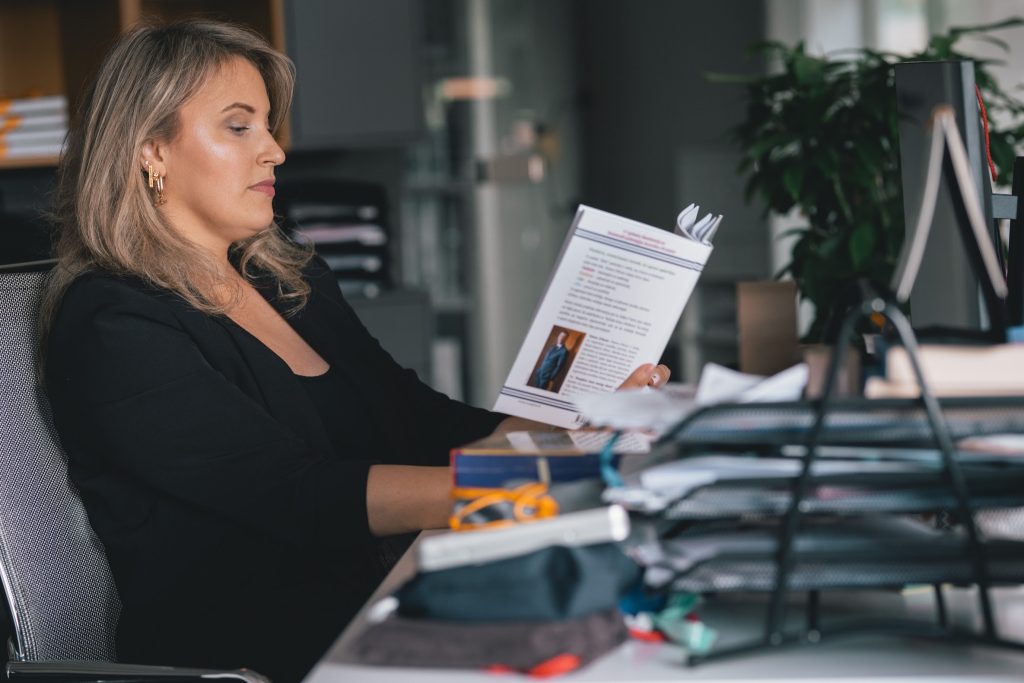 Career development discussions are essential not just for the employees but for the overall growth of an organization as well. Here's why.
1. Talent retention
The most important benefit organizations can have from career development discussions is talent retention. When organizations discuss workers' requirements, employees feel valued. Plus, open communication is known to boost talent retention. 
2. Employee engagement and motivation
Having an open and transparent conversation with your employees can be a brilliant way to boost their engagement and motivation. By letting your employees know that their career aspirations are acknowledged and supported, you can not only increase their commitment to the organization but boost employee satisfaction, too. 
3. Succession planning
Career development discussions also allow organizations to identify talented employees within the organization. This can help you train your employees for leadership positions.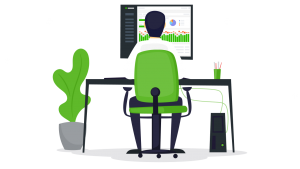 Be smart about your time!
Use DeskTime for time management, and always stay on top of your team's efficiency ratings.
How to talk to your boss about career growth?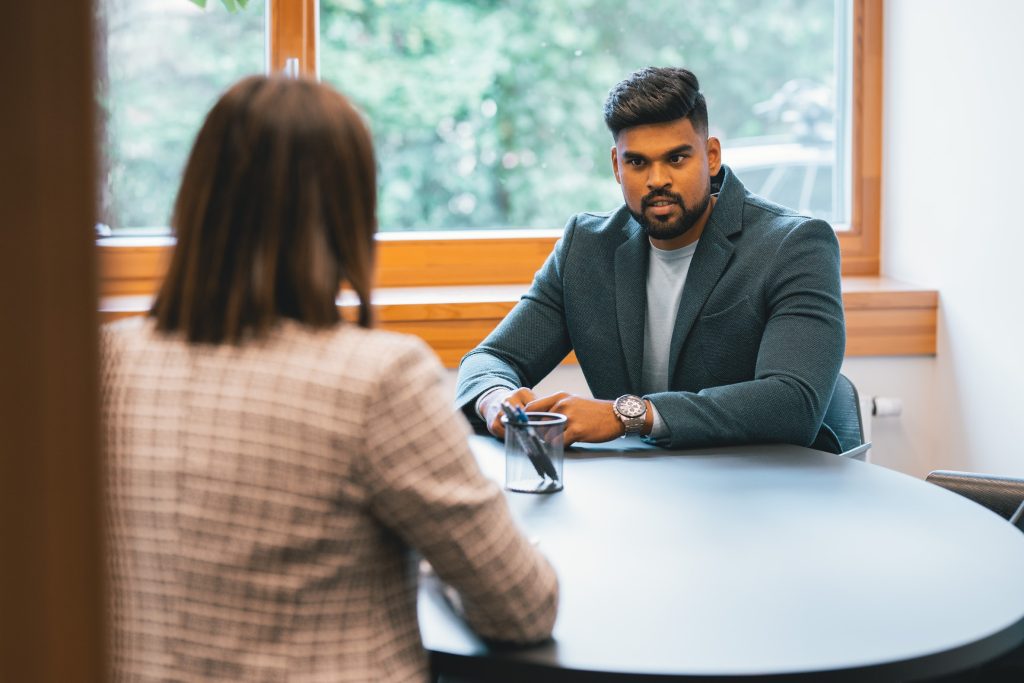 Initiating a career growth conversation with your manager can be challenging. Let's look at how to start this conversation to ensure the best results. 
1. Prepare in advance
The first important thing you need to do for a successful career development discussion with your boss is to prepare. This will give you confidence and lessen the chances of being caught off guard by some questions. It's a good idea to:
Review the open positions at the company so you know your potential options
Identify your unique skills – it's thoughtful to prepare an answer in case you're asked such a question
Jot down a few talking points about your journey in the company so far
Think of such things as your professional values, your motivation, and where you see yourself in a few years
Preparation lets you demonstrate what makes you a strong candidate for certain positions. It also shows your commitment to taking proactive steps to manage your career.
2. Communicate your goals clearly
The following vital point to consider is clear communication of your goals. This will help you and your manager stay on the same page regarding your career aspirations. 
When your employers know where you're moving professionally, it's easier for them to identify any available opportunities for you within the organization. If they think you can fit in a role, they can direct you towards it. 
Plus, being able to share at least a few specific career goals creates a better impression of you to your managers. And if you can add what exactly you're willing to do to get there – think of it as sharing a tactical plan – it will display you even more as a professional with growth potential.
3. Seek feedback
When talking to your manager about your career growth, always seek their feedback. This will help you understand how others perceive your skills and performance. As a result, you can work on improving yourself if needed. 
Plus, feedback doesn't deliver your downsides only. Managers will likely tell you what they appreciate in your work performance and your strengths and maybe even share where they see you in a few years within the company.
4. Request support and opportunities
This is related to the above point. Once you've heard feedback regarding how you work, you can ask your managers for support in improving particular skills. They can allocate valuable resources and organize workshops or even training sessions within the organization to support you. Or you can ask your workplace to finance a training program that you've found and see as valuable for your professional development.
5. Follow up
Managers are usually busy, so it's a good idea to reach out sometime after your career growth discussion if they don't do that themselves. Follow up to find out the progress on the steps you've discussed, or share what you've been doing regarding some professional development opportunities and actions.
Note: It's better to schedule that short follow-up meeting or call with the manager instead of barging into their office. 
Conclusion
Sometimes you might be excellent at your job. But you might still not experience the growth that you expect. At such times, having an effective conversation with your manager for career growth can be helpful. So don't be hesitant about it. Prepare, schedule a meeting, and go talk the career talk!
This is a guest post by Syed Balkhi. Syed is the founder of WPBeginner, the largest free WordPress resource site. With over ten years of experience, he's the leading WordPress expert in the industry. You can learn more about Syed and his portfolio of companies by following him on his social media networks.
Did you find this article useful? Give it a clap!
Psst! You can clap more than once if you really loved it 🙂