Navigating the universe of various project management tools can be a bit of a challenge. Whatever the specifics of the projects are, there is a list of project management tools that are "the best fit" and "designed specifically" for the case. 
But how do you know which project planning tools are the best fit for you and your team? Is exploring the options even possible without having to try them all out? Lucky for you, this article will give you the necessary insights for making your decision. We'll start with general info on what to look for when seeking project management tools and move on to exploring several categories of the best project management apps. Sit back and enjoy!
Want to get the most out of your time?
Try DeskTime for free!
Try free for 14 days · No credit card required.
On the lookout for the best project management tools
Before exploring particular project management apps and software tools, let's briefly discuss the things to look for when choosing a project management tool in general. Seeking something is much easier when you have some guidelines throughout the process, right?
#1 Define why you or your team needs a project management app
If you're reading this article, there probably are two options – either your current project planning tool doesn't meet your requirements, or you don't have a project management process in place, and you're suffering for it. One way or the other, it's essential to define a specific reason (or a few) why you need a project management tool. 
Common reasons could be:
Team members use different tools to store and share files and information to manage work. Thus the project workflow is scattered, and communication is anything but effective.
Project deadlines are often missed due to inefficient workflow.
Managing projects currently involves a lot of manual work – communication through emails, sending files back and forth, scheduling meetings with team members to receive feedback and status updates.
Lack of awareness of who's accountable for what exactly, which project is the top priority, and who can help with what task.
#2 What project management tool features you need
When you've defined the main reasons why you need a project management tool in the first place, you can move on to its functionalities. 
While the range of available features is vast, there are a few basic components that you'll likely find in every project management tool. Those are dashboards, project scheduling and timeline management, project roles assigning, task management, file sharing & storage, collaboration, and communication. 
If basic functions are covered, explore what other features or benefits each project management tool offers that could be crucial to you. For example, how project tasks are structured, does the tool calculate project costs, does it track project time, can you prioritize tasks within a project, and more. 
Additionally, according to the specifics of your projects, you may also need third-party integrations – check those out as well when choosing your project planning tool. 
#3 Ease of use and pricing
It may seem contradictory that one piece of advice on finding the best project management tool is to look for something easy to use – how can you know if you haven't used it before?
Check out reviews, and watch YouTube videos that introduce the tools and their interfaces. Plus, many project management apps have demo versions that can provide you with quick insight. You'll be implementing a new tool into your and your team's workflow, which will take some time to adjust anyway. Explore your options to make sure you're not taking the toughest road. 
Another factor that doesn't need much explaining is costs: 
Are you ok with paying a monthly fee for project management software, or would you prefer free options instead? 
Is the pricing acceptable according to the number of users included? 
How flexible are the pricing plans, and will it be easy to upgrade when the need occurs?
Consider these factors when choosing a project management tool or app. 
Project management tool examples – the ultimate list
Now, when we've looked at some of the essential aspects to consider when chasing new project management software, let's dive into some actual tools you could use. 
Best project management apps and tools for teams
1. Asana
Yes, well-known to many, good old Asana is one of the best project management tools for teams. It's a great combo of project management, file exchange and storage, and team collaboration. If a team goes for Asana, they can practically work without using email. Plus, the tool's simple interface makes sure that new users learn their way around the tool rather quickly. 
Helpful features: Several task management forms, task scheduling via Asana calendar, real-time status updates and reports, ability to keep all team communication in one place, and more.
Pricing: The Basic plan is available for free for teams up to 15 members, the Premium plan begins from €10.99/user/month, and the Business subscription starts from €24.99/user/month. 
2. Basecamp
Another excellent project planning and management tool that many teams choose is Basecamp. Nicely designed interface, easy to set up, and flexible to use – Basecamp can boost your team's collaboration on projects, providing a virtual hub with all information in one place. What's especially great about this project management tool is how it balances work management and communication. Additionally, Basecamp is the project management app that offers quite the list of integration options. 
Helpful features: To-do lists, easy file sharing and organizing in folders, setting automatic check-ins on task progress, shared schedule, real-time group chat, and more. 
Pricing: Basecamp Business is available for $99/month – unlimited features, users, and projects included. 
3. Trello
Does your team prefer using to-do lists and boards for effective task management? You've probably heard about Trello then. But if not – it's a project management tool that organizes work with a helping hand of boards, lists, and cards. Many users love Trello for its simplicity and various viewing options it offers – the Trello board can be customized with timelines, assigned tasks, calendars, and more. 
Helpful features: Timeline view for project planning, table view to connect the work across several boards, easy-to-use cards system to add tasks or subtasks.
Pricing: Free version available for up to 10 Trello boards, Business Class plan starts at $10/user/month. 
4. Jira
Even though Jira wasn't initially created for project management but rather for software development, the tool is often used for project management as well. Jira's Kanban workflow system makes it convenient for managing projects, and in case your team is working on software development or other IT-related projects, choosing this tool could be just perfect. 
Helpful features: Flexible Kanban boards, roadmaps for sketching out the big picture, reporting, convenient overview of project development status, tasks automation, and templates. 
Pricing: Free plan for up to 10 users, Standard plan from $7/user/month, Premium plan from $14 user/month – the latter includes unlimited file storage within the tool. 
5. DeskTime
Joining the list of best project management tools for teams is another tool that wasn't specifically built for the purpose but serves it rather well – DeskTime. It's a time tracker with many added features, including the Projects feature. It tracks project hours and provides you with precious insight into where those work hours are spent. Tracked project time can then be turned into billable time by adding hourly rates for your team members.
Helpful features: Project time tracker, project costs calculation for accurate billing, reports with data on project's time, employee productivity, and more. 
Pricing: The DeskTime PRO plan costs $7/user/month, Premium – $10/user/month, and Enterprise plan costs $20/user/month. It's cheaper if billed annually. 
6. Microsoft Teams
Some of you may view this choice as slightly unexpected. However, the pandemic-induced remote work era has shown that more and more businesses choose Microsoft Teams as their go-to project management tool. And the choice is very understandable – Microsoft's collaboration platform easily competes with Slack, app integrations, and file storage apps by providing a single space for all things related to teamwork. 
Helpful features: The meeting scheduling and built-in video call function, document storage and file sharing, over 700 integrations with different 3rd party business apps, the option to divide team communication into several channels, real-time collaboration on files via Excel, Word, PowerPoint, and more.
Pricing: A Free version is available but with limited features, users, and storage, the Microsoft 365 Business Basic starts at $5/user/month – a bundle of Microsoft apps and services that also include MS Teams. 
Bonus: Check out this thorough guide on how to use MS Teams and its best features. 
7. GanttPRO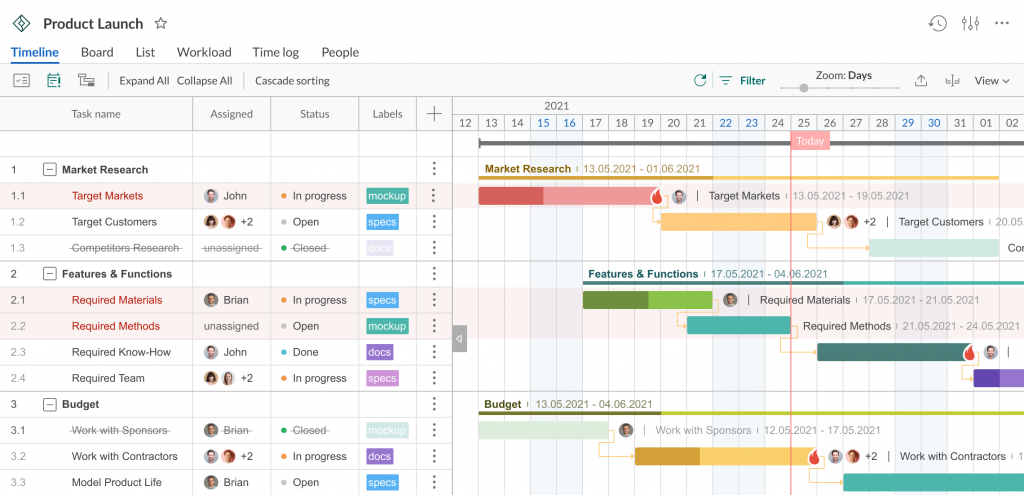 GanttPRO is a reliable project management tool that helps plan work, track tasks, set deadlines, and collaborate with stakeholders. It empowers teams from various industries to create unlimited projects and work with unlimited resources, even using a free trial. 
This project planning tool tool offers an online Gantt diagram where you can schedule activities, set dependencies, add milestones for your project tasks, and work with the flexible WBS hierarchies. It allows prioritizing tasks to make sure deadlines are met. The tool's integration options make it a powerful project management suite.
This Gantt chart maker is widely used in software development, construction, healthcare, finances, events, education, and many other spheres.
Helpful features: Intuitive Gantt charts, cost and budget management, handy reporting and time tracking, capability to export projects (to pdf, png, and Excel formats), a good fit for teams, freelancers, and remote workers.
Pricing: Plans start from $8.90/user/month (for teams); from $15/user/month (for individuals). A 14-day free trial is available.
Project management tools and software examples for freelancers
Even though projects and their management are often associated with teamwork, the freelance lifestyle is also commonly built around project-based work.
Plus, contrary to popular stereotypes, many freelancers follow a detailed work schedule and choose to stick to their routine. Therefore, having a project management app is as essential to freelancers as it is for teams. 
Check out these tools you can use to manage your projects as a freelancer:
8. monday.com
Among the wide variety of project management tools suitable for freelancers, monday.com is one worth giving a shot. The tool offers project templates to ensure effective project workflow from the beginning. Moreover, monday's dashboard is customizable to fit the order of activities you prefer, no matter the industry you're working in. What's also convenient for your freelance workflow – monday.com can be integrated with 40+ other tools that you or your clients may use. 
Helpful features: File storage and sharing, specific task management template for freelancers, Kanban board, progress tracking for added accountability in front of your clients, time tracking, and more.  
Pricing: The Individual plan is free; the Basic plan that includes 5 GB of file storage and other features begins at €8/user/month. 
9. Thrive
If you're looking for project management tools that have been designed explicitly for freelancer needs, check out Thrive. As said on Thrive's online page – it's your wingman while you run your freelance business. The project management app helps you keep track of your workload, manage your tasks, analyze your progress and performance, and more. 
Thrive also offers an option to track your time via timesheets, add hourly rates and differ billable and non-billable hours. What's great about this freelancer project management tool – it gives you stats on client ratings, returning clients, and the most common industries you're working with. 
Helpful features: Invoicing, timesheets, expense tracking, workload metrics to help you set priorities, a client section that has all the needed information on your customers, and more. 
Pricing: $19/month for the Solo plan (suitable for freelancers) or $190/year for the same plan if billed annually. 
10. AND.CO
AND.CO is not only a freelance project management app, but it's a whole suite of tools designed to help freelancers deal with running their businesses. If you're looking for an all-inclusive solution, AND.CO is one option to consider for sure. Nearly everything you may need can be found in the tool's suite – from client proposals, freelance agreement contracts, and invoicing to tasks list, reports, expenses tracking, and more.
Instead of using several tools to manage your freelancer life, you can use one and be set. AND.CO cares if your workflow is smooth and has implemented smart systems to automate many processes that would otherwise be time-consuming. 
Helpful features: Invoicing (recurring, automatic payment reminders, and more), customizable proposals and contracts with e-signing included, task manager, expense tracking, and more.
Pricing: The PRO version with all the tools begins from $18/month if billed annually. There's also a free version, but it doesn't have all the features. 
11. Plutio
Meet Plutio – another great project management tool suitable for freelancers. Back in 2018, it was even named one of the top ten freelancer tools by Forbes, and there was likely a strong reason for that. Plutio goes by the concept of a freelancer toolkit to spare you the hassle of juggling many apps. When it comes to managing projects, this project management app has a thoughtful system of colorful tags, recurring tasks, reminders, and templates that can be reused to save your time. 
Among other freelance-friendly features such as invoicing, proposals and contracts, and timesheets, Plutio also provides an in-built inbox that can be synced with third-party email services, an option to create forms and surveys for your clients, 25 languages you can use the tool in, and so much more. Worth checking out, without a doubt. 
Helpful features: Comprehensive project organizing, a drag & drop editor for client proposals, client management, an inbox where you can convert emails to tasks with a single click, and more. 
Pricing: The Solo plan (single user, collaboration option not included) – $15/month and Studio plan with the ability to invite clients to the workspace – $20/month. 
12. HoneyBook
When looking for a project management software tool, features that suit your needs undoubtedly are a must, but if they're paired with a beautifully designed interface, it's even better. That's the case of HoneyBook project management software for freelancers – great functionality and lovely design. 
This project management tool tool offers end-to-end project tracking, templates that you can brand, an easy client booking process, workflow automation, and many other cool things that make your freelance project management a lot smoother. 
Helpful features: Online contracts, online payments (accepts all major credit cards and bank transfers, supports auto payments, mobile-friendly), online scheduling tool for different meeting types, integrations with Zoom, QuickBooks, Gmail, Zapier, and more.
Pricing: Starter plan for $9/month and Unlimited Monthly subscription for $39/month. 
13. 17hats
Freelancers are wearers of many hats, but have you ever counted how many exactly? 17hats, a project management tool, says it could be 17 or so. The tool is a friend to those who run their business solo, and 17hats brings two main storylines to the table – workflow automation and a free CRM. As a result, you get an organized client database, your project files are put in order, and you get more time to grow your business. 
The specific thing about 17hats is that the project management app offers its customers three levels of automation – starting from a plan that's best for those new to the freelance business world and ending with an offer for owners of stable businesses. 
Helpful features: A Project Page that organizes all things related to your freelance projects, many document templates – contracts, invoices, customer surveys, etc., invoicing and payments, a set of time management tools, and more. 
Pricing: 17hats offers three user plans according to the size and needs of your freelance business. Level one starts at $13/month, 2nd level begins at $25/month, and level number three – from $50/month. 
The best project management tools available for free 
Not all good things have to be expensive, that's for sure. And when it comes to project management software tools, there are free options available that provide the needed functions well enough to consider them as your go-to choices. Check out the list that combines tools that are 100% free of charge and those with great unpaid versions.
14. Hubbion
First on this sub-list is Hubbion, a 100% free task management and collaboration tool that provides a convenient space to manage your projects. Though it may not be as visually appealing as some of the other tools or not have fancy features, it provides the basic functions and, well, it's free. Hubbion doesn't make things complicated – it has a simple interface with a task planner, calendar, assigning tasks to others, and lets you collaborate with your team members.
You won't find any project management-related extras, and Hubbion will not be the all-inclusive tool. But to manage simple projects, this tool can be helpful enough. 
Helpful features: A quick-view calendar that sends alerts when you've missed deadlines, a task manager for planning tasks for the future, project calendar, and unlimited collaboration via the tool's built-in messaging. 
15. Quire
Next on the list of free project management tools is Quire – a good choice for those teams that want a project management tool that's free and has a nicely designed interface. In Quire, you can create projects, tasks, assignments, set task priority, due dates, and transfer tasks to other projects. 
Besides basic task management, Quire offers the option to create personalized sublists to manage your solo tasks within the craze of a project. Additionally, there are several ways that you can keep track of the progress of your projects, as Quire provides different project view options. While this project planning tool doesn't include added functionality such as project billing or invoicing, it has the very basics of project management covered.
Helpful features: Gantt chart view, Board view, and Tree view for your projects, mobile app version for iOS and Android, can be integrated with such apps as Zapier, Slack, MS Teams, and more. 
16. OrchardCollaboration
Another free project management tool that can help you and your team with project management is OrchardCollaboration. Similar to the previously mentioned Hubbion, it doesn't stand out with engaging design – OrchardCollaboration's interface is as simple as it can be. However, if a free yet helping hand with managing tasks is all you need, this tool will be a fine choice. 
OrchardCollaboration is a cloud-based, open-source collaboration system that integrates with Orchard CMS and streamlines workflows, including project management. Built by a passionate team of developers, it includes many great features while being free of charge. Installing  OrchardCollaboration takes up to a few minutes, and afterward, you're taken to the user dashboard, and voila – good to go!
Helpful features: Assignment management, email templates to use in workflows, in-built discussion option, project activity-stream, and more.
17. Freedcamp
Freedcamp is a project management tool with several paid plans but is well-known for its free version as it offers many wonderful features. The unpaid version of Freedcamp includes unlimited users and projects and a package of core functionality that's needed for successful project management. Additionally, free users of Freedcamp have access to the Zapier integration, an option to add tags to the content, and calendar sharing.
Helpful features: Task management, password management, a project milestones feature, file sharing (with a limit of 10MB to a single file), productivity and team activity measuring, and more.
18. ClickUp
One more project management tool that offers both a paid subscription and a free one is ClickUp. It's an all-in-one tool aimed to serve the needs of managing projects for teams. The tool makes planning and tracking tasks much easier with its convenient dashboard, view options, and features. Of course, ClickUp's free version doesn't offer all the benefits that paid plans do, but it's a decent option. The free plan provides up to 5 workspaces with unlimited tasks, 100MB file storage, monthly limited usage of many premium features, time tracking integration, and more. 
Helpful features: Basic reports, a time tracking feature, 24-hour activity view, Sprints ClickApp – a tool within a tool that breaks your large projects into smaller chunks of work, different views for your dashboard, real-time collaboration, and more.
19. Bitrix24
Last but not least on this article's list is Bitrix24, business software that offers various tools, including a set for project management. While its paid plans provide many valuable features, Bitrix24's free version covers almost all tools one may need for basic project management. You receive unlimited users' access, a 5GB online storage "room", and a professional project management platform with Kanban and Gantt charts, time tracking, workload planning, and other valuable features. 
Bitrix24's free plan doesn't include project templates, reports on efficiency KPIs, and there's a limit on collaboration functionality as well. Other than that, Bitrix24 is available for free via both desktop and mobile apps with many features that ease you and your team's project management process. 
Helpful features: Unlimited tasks and projects, task planning, checklists and reminders, autofocus mode that filters tasks, creating tasks from emails, searchable tasks (within 1,000 tasks), and more.
In conclusion
A convenient and easy-to-use project management tool provides invaluable help within the process, whether you're working in a team or freelancing. Before you dive into the sea of the best project management software tools and apps, make sure you know your needs, required project management features, and the optimal pricing level. It's a lot easier to look for something when you know what exactly you wish to find. 
If one of your requirements is project time tracking, explore what DeskTime has to offer. We have many features your team will love, or that you'll appreciate as a freelancer. Check it out! 
Did you find this article useful? Give it a clap!
Psst! You can clap more than once if you really loved it 🙂